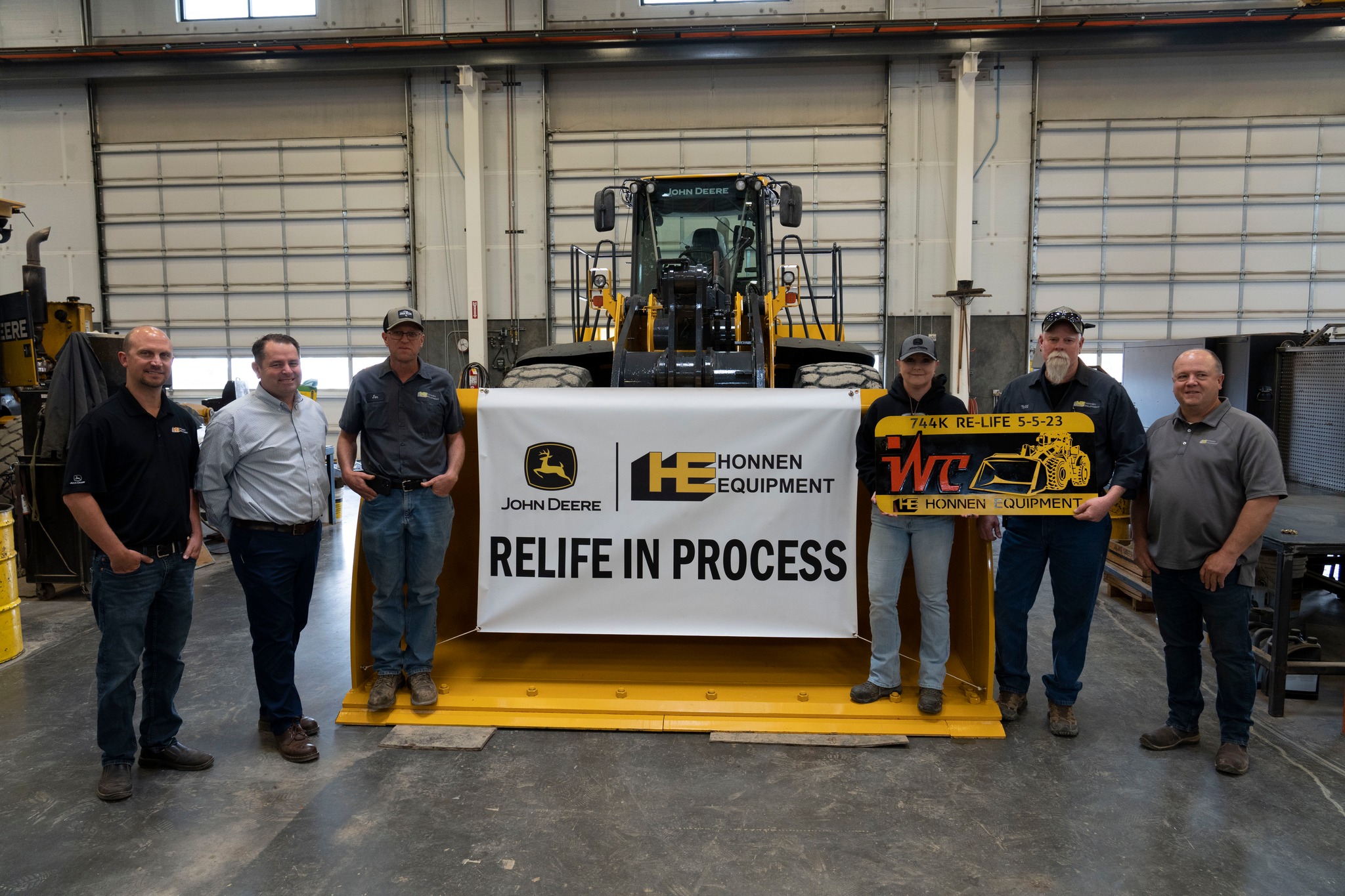 August 22, 2023
Honnen Equipment proudly announces our Salt Lake City branch is our first John Deere Certified Rebuild Center with the recent completion of a John Deere Powertrain ReLife Plus rebuild of a 744K-II Wheel Loader.
The John Deere ReLife program is a comprehensive and flexible machine-rebuild solution that can extend the life of a machine by offering a thorough inspection, replacement of major powertrain components, and a John Deere Powertrain ReLife Plus warranty. Tim Stokes, Honnen's Vice President of Customer Support discusses the process, "When we ReLife a machine, it's taking a machine that is coming to the end of its useful life, and then refreshing all of the major components. The idea is extending the piece of equipment's useful life through another whole, or second life. We are excited that we have completed our first one two weeks ahead of schedule."
Honnen's Salt Lake City service team recently partnered with Whitaker Construction on rebuilding their 744K-II Wheel Loader. According to Stokes, "the customer really likes their machine", so they chose to rebuild it rather than replace it.
An integral part of the ReLife process is communication with the customer throughout the project. From determining that the rebuild is the best solution, to the initial inspection, and variables we encountered throughout the project, we collaborated with Whitaker. Dave Wickham, Whitaker Construction Vice President of Equipment Operations, said "Honnen is a partner with us; it's not a vendor/customer relationship, it's a partnership."
During the rebuild, all major components were either replaced or rebuilt back to specifications. This included the engine, engine coolers, transmission, front axle, rear axle, hydraulic pumps, bucket cylinders, wiring harness, safety items and other items critical to extended life cycle of the unit. After reassembling the unit and conducting tests, it was sent out for a fresh coat of paint.
The 744K-II is now back in service with continued support from the Honnen Service and Technical Services teams. It is also backed by the ReLife standard one-year unlimited-hour warranty on all John Deere components that Honnen installed plus the extended warranty that the customer opted in to for the major powertrain components that were replaced.
Honnen looks forward to completing many more ReLife projects across our territory. Honnen Equipment has been serving the Rocky Mountain region for 60 years, with locations in Colorado, Wyoming, Utah, and Idaho. We provide parts, sales, service, and rentals as well as customer support and technology solutions for today's heavy equipment. It is our mission to partner with our customers to provide superior value through the lowest owning and operating costs. www.Honnen.com



Contact: 
Erica Council




Honnen Equipment
Commerce City, CO 80022


Phone 

303-287-7506


Fax 

303-288-2215

 


ericacouncil@honnen.com