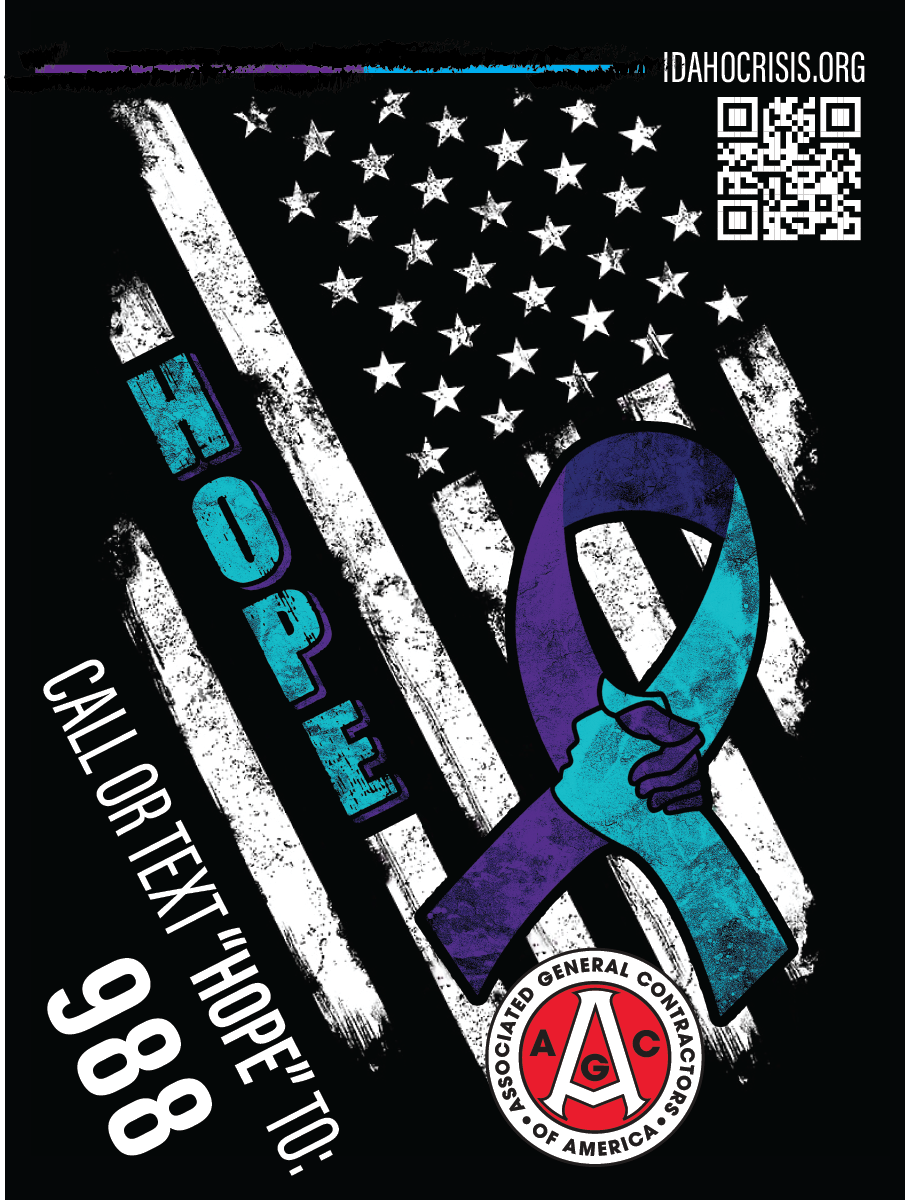 Boise, ID – As part of their ongoing commitment to worker safety, construction companies, organizations, and stakeholders across the nation are joining forces to observe the Construction Suicide Prevention Week from September 4th to the 8th. This dedicated week aims to raise awareness about construction workers' mental health challenges and promote resources for suicide prevention and mental well-being.
The construction industry, known for its demanding nature and high-stress environments, has identified the need to prioritize the mental health of its workforce. Construction Suicide Prevention Week is a collaborative initiative that seeks to break down stigma, provide support, and foster a culture of empathy and care within the industry.
Here in Idaho, the Idaho AGC is teaming up with PortaPros to bring awareness to the Idaho Crisis & Suicide Hotline by placing stickers with the hotline number (988) in porta potties on construction sites throughout the Treasure Valley. These thought-provoking stickers show multiple ways for someone to anonymously reach out for help.
"Suicide has taken friends and family, and it hits close to home. It is a preventable loss for families and communities, and PortaPros appreciates the opportunity to partner with the AGC to raise education and awareness concerning behavioral health issues," stated Carl Arriola, the President and Founder of PortaPros.
The Idaho AGC is also hosting a presentation by Lee Flinn, Director of the Idaho Crisis & Suicide Hotline, for construction leaders to share impacts and actionable steps to take in their organization. For more information about Construction Suicide Prevention and available resources, please visit https://www.agc.org/mental-health-suicide-prevention.
# # #
The Idaho AGC is the state's largest, most trusted network of construction leaders. Our more than 650 member companies are located in each of Idaho's 44 counties and are actively building Idaho's future each day. More information on the organization is available at www.idahoagc.org. Contact the Idaho AGC (info below) to have a digital copy of the sticker sent to you to include in your publication.
PortaPros provides a variety of portable sanitation and temporary fencing solutions for events, job sites, agriculture, and more. Through their servicing locations - Ontario, Oregon; Boise, Nampa, and Pocatello, Idaho - PortaPros has been committed to exceeding expectations in portable sanitation since 2012. PortaPros takes pride in providing the PortaPros difference, where our goal is to be the easiest part of your event or project from first call through pick up. We do it better by doing it different. For more information, visit https://www.portapros.com/ or follow PortaPros on Facebook and LinkedIn.
# # #
Media Contact:
Molly Johnson
Director of Workforce Development
Idaho Associated General Contractors
208-344-2531
mjohnson@idahoagc.org
www.idahoagc.org
www.constructionsuicideprevention.com