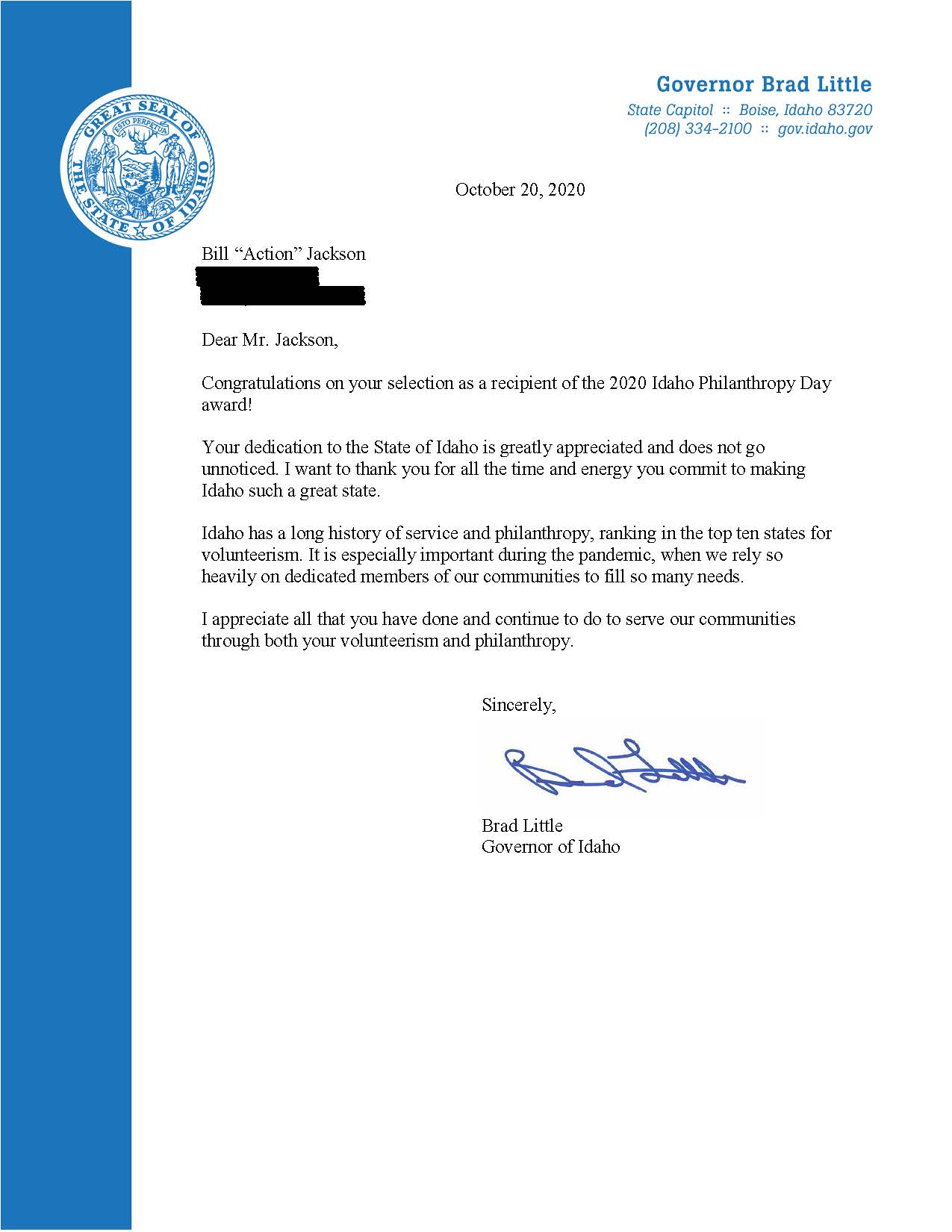 Along with fellow Idahoans, "Action" Jackson will be honored at the Southwest Idaho Philanthropy Day celebration on November 13 at 11:00 am MT. The Outstanding Adult Philanthropist award will be given to "Action" along with two other deserving Idahoans. Their good works will be showcased during the online event.
"I nominated "Action" Jackson for this award because I'm truly amazed by what he has been able to accomplish over the last 20 years to make our communities a better place to live." said Ryan Gerulf, Director of Development, Idaho State University. "He rarely asks for recognition and I am excited to tell the rest of the state about his wonderful giving spirit. He may not always hear from them, but he has transformed the lives of hundreds if not thousands of students."
Winners were chosen by the Idaho Philanthropy Day judges committee. They study each nomination and decide which ones best encompass the spirit of philanthropy including, time, talent, treasure, and involvement in the community.
"Every year the selection process becomes harder and harder," said Amy Little, CEO of the Idaho Nonprofit Center. "Idaho has so many impressive citizens and we cannot wait to give their generosity center stage this fall."
Like many events in 2020, the Idaho Philanthropy Day ceremony will be hosted virtually. Serve Idaho program supervisor Renee Bade said "Our main goal will always be to recognize the folks that invest in their communities and show them our appreciation. Moving online will not stop us from cheering them on."
To RSVP to the virtual event, go to idahononprofits.org/idaho-philanthropy-day
Idaho Philanthropy Day is organized by Serve Idaho, the Governor's Commission on Service and Volunteerism, and the Idaho Nonprofit Center. The annual ceremonies were revitalized in 2017 by Idaho Association of Fundraising Professionals, Idaho Community Foundation, Idaho Women's Charitable Foundation, and Idaho Nonprofit Center
The awards are presented by Wells Fargo with additional sponsors Thrivent, Clif Bar, the Advocates, Rotary Club of Boise Centennial, Fluor Idaho, Idaho Women's Charitable Foundation, and First Nonprofit